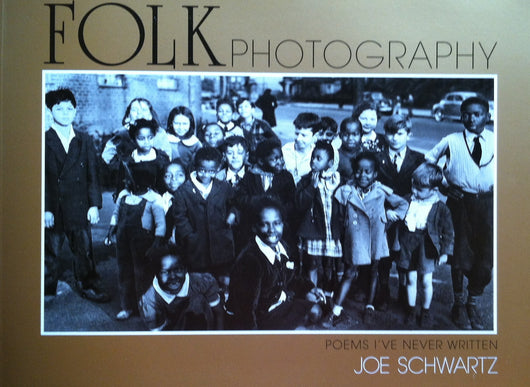 Folk Photography, Poems I've Never Written ( photo book)
Regular price $60.00 $45.00 Sale
Folk Photography, Poems I've Never Written by Joe Schwartz
"When not impinged on by prejudiced home atmospheres, communicating humans, young and old, of various races and national origins of engaged in shared activities, showing healthy attitudes despite poor environmental conditions."
A 240 page volume of 335 duotone images makes it one of the largest collections of black and white socially historical photographs to be compiled in one publication by a single photographer, Joe Schwartz ( New York Photo League.) 
"I have tried to capture the essence of the urban "have-nots" in America."
Joe's theme focused on interracial harmony - people getting along in the 1930s - 1940s on the streets of Brooklyn, New York and in California in the 1950s - 1980s. 
"Human dignity and individual rights are of extreme importance to Joe Schwartz, an artist who has spent many years documenting the everyday activities of common folk. Even when his works depict decadence and decay, he focuses on the substance and value of individuals rather than their plight as unfortunate human beings. He is a philosopher of hope rather than a messenger of despair." Samella Lewis, Ph.D., Professor Emerita, Scripps College, Claremont, CA.
Joe Schwartz was an advocate for civil rights for all races, (through his street photography,) prior to the civil rights movement.